Allus win Humberside County Netball virtual lockdown challenge
** Exciting challenge**
Introducing HUMBERSIDE RACE ACROSS THE UK!
Starting from Monday 15th February – helping us all stay active and connected during this lockdown period!!
The challenge:🏃🏼‍♀️🚶🏼‍♂️🚴🏽‍♀️
Humberside netball clubs will be travelling across the UK (virtually of course) visiting all the home venues of the 11 superleague franchises, collectively covering the distance from John o'Groats to Land's End. But which club will be the first to complete this huge journey of 1,348 miles?
Any activity can be included; walking, running and cycling. Record your activity on smart devices. There are numerous FREE apps you can download on your phone to monitor your activity such as STRAVA.
Participating members should record their distances and send your screenshots to Bella via email allusgoesthedistance@gmail.com. Send in your miles/km everyday (ideally by 7pm) to be added onto the 'league table'. This will be updated each evening on Twitter and Instagram.
This is a huge club effort with plenty of mini-challenges to look out for. Please keep an eye on our social media pages 👀.
Tag us in your stories or posts using #HNCAgoesthedistance.
Good luck all and we look forward to your participation.
THE RACE IS ON!!
Please note by submitting photos you are giving consent to them being used of social media pages for club promotion and marketing.
The club would like to say a huge thank you to Bella for co-ordinating this challenge across the club.
Daily Updates from Bella
Day 1 – Monday 15th Feb
Update 😃
A good start to the challenge, Allus are currently third in the leaderboard!!
Massive well done to all of those that have taken part so far – had people from all parts of the club!🎉
So far our seniors are smashing it for us, in both the amount of people taking part and total distance but the U11s are following closely behind!! Get out and about tomorrow to help your age group to the top🏃🏼‍♀️
If you've not let Bella know of any miles you've done today, you can still send them in and they will get added to tomorrow's total,
Massive shoutout to Emma in the U11s who has done the furthest distance so far!🚲
Total miles so far are 114.54 so keep up the good work everyone! Only 170 miles until we get to our first franchise and mini challenge at Strathclyde Sirens😍
Polite reminder to try and include the age group the girls are in (eg U14) when you email. Just so we can keep track of everyone a bit easier😁
And just to clear up a few questions:
• Just the members (including coaches so best get running😉) of the club's miles count towards the challenge but of course we encourage everyone to join in getting active!
• Miles/km should be tracked as individual walks/runs/cycles through the day if possible!
Any questions give Bella an email on the same email you send your scores to – allusgoesthedistance@gmail.com
Update on participants
U11s – 6
U12s – 2
U13s – 0
U14s – 1
U16s – 2
Seniors – 8 (incl Bella and Jennie)
Coaches – 4
Day 2 – Tuesday 16th Feb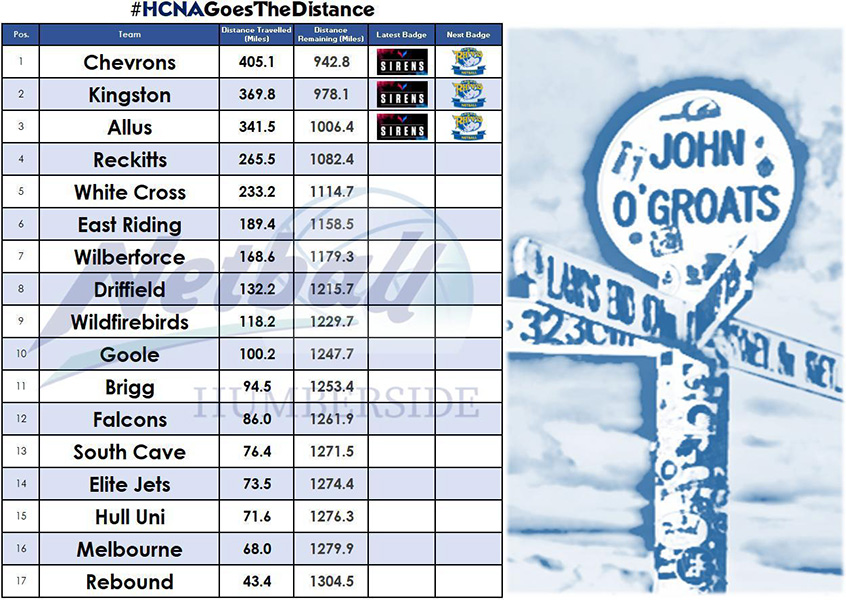 Absolute smashed it today everyone so impressed – 227 miles today bringing our total to 341.5 and meaning we've reached our first franchise of Strathclyde Sirens!! 🧜🏼‍♀️
Mini challenge: since we're in Scotland now we thought we could all make some Scottish shortbread
󠁧󠁢󠁳󠁣󠁴󠁿 we'd love to see photos of your attempts!
The seniors are smashing it with almost 125 miles completed over two days! Massive shoutout to Lisa for her 30 mile cycle today!!
And lastly when you're out on your walks/runs/cycles we'd love if you could take some photos of the nature or you and the friends/family you went with! These are to go on the website to update everyone of what we're doing and our progress!! Send these in with your screenshots!
Keep it up girls!!
🖤
Daily participants update!
U11 – 6 people 66.58 miles
U12 – 4 people 26.97 miles
U14b – 2 people 19.2 miles
U14 – 2 people 11.96 miles
U16 – 2 people 18.78 miles
Seniors – 14 people 132.12 miles
Coaches – 5 people 85.81 miles
Day 3 – Wednesday 17th Feb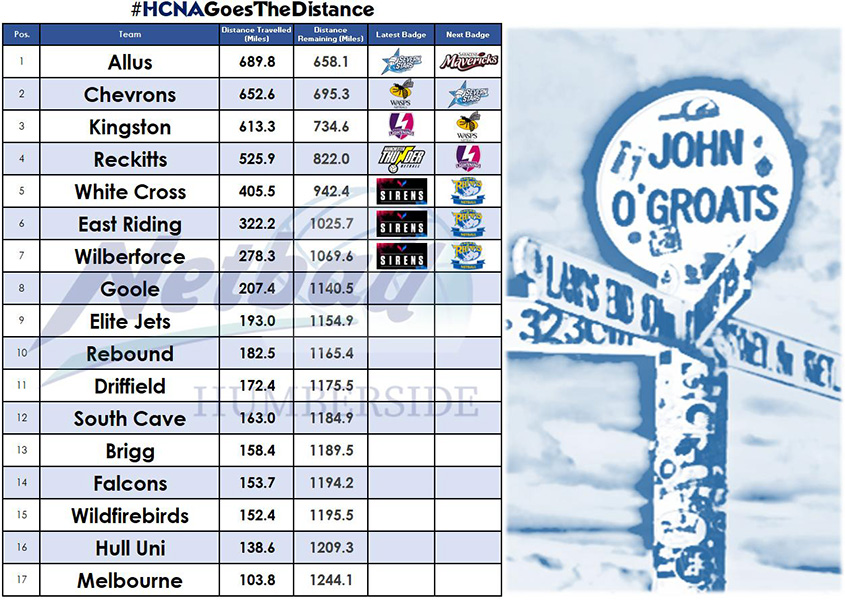 What a huge update we have tonight!!
Today we've smashed yesterday's total once again with 348.3 bringing the total across the 3 days to 689.8 miles!
This massive push today means we've flown past Leeds Rhinos, Manchester Thunder, Loughborough Lightning, Wasps AND Severn Stars!! And nearly half way to our finishing line of Land's End!
Triggering 5 mini challenges in one so take your pick! We've got:
• Yorkshire Puddings
• Manchester Tarts
• Create a healthy breakfast
• Curry
• Something with Worcester sauce in!
Can't wait to see everyone's attempts! Keep the photos of your walks/runs/cycles coming,it's been great seeing so many of you out and about!!
And lastly a HUGE shoutout to Orla and Daisy in the U11s who are absolutely smashing it with activities and the mini challenge from yesterday, your shortbreads looked yum!!
Daily participants update!

U11 – 7 people 110.9 miles
U12 – 5 people 35.69 miles
U14b – 3 people 30.66 miles
U14a – 5 people 44.31 miles
U16 – 3 people 53.16 miles
Seniors – 18 people 263.35 miles
Coaches – 8 people 195.71 miles
💚🖤
Day 4 – Thursday 18th Feb
Update time!
Today we've travelled 435.3 miles bringing us to a total of 1125.13!! Massive well done to everyone! Smashing yesterday's total once again – unbelievable!
We've gone through Saracens Mavericks and Celtic Dragons, along with London Pulse and Surrey Storm so we've got four activities! Sticky Toffee Pudding and Welsh Rarebit (or welsh cakes!), Eton mess and a fry up!🍰🍬🍳
Huge well done to Katie for her 50 mile cycle, she's completed over 120 miles towards the challenge🤩🤩🤩
Let's have a big push tomorrow everyone to smash today's total to keep top of the leaderboard! Head over to @humberside_netball_ on Instagram or @HumbersideHCNA on Twitter to see the totals from all the clubs!🥇🥈🥉
Here's the photos taken so far below – take a look to see if you can see your photos! Keep sending them and they'll be put up alongside the challenge info!
So close to the finish now!! Can't wait to see your activities tomorrow!!🖤💚
Day 5 – Friday 19th Feb
We won!!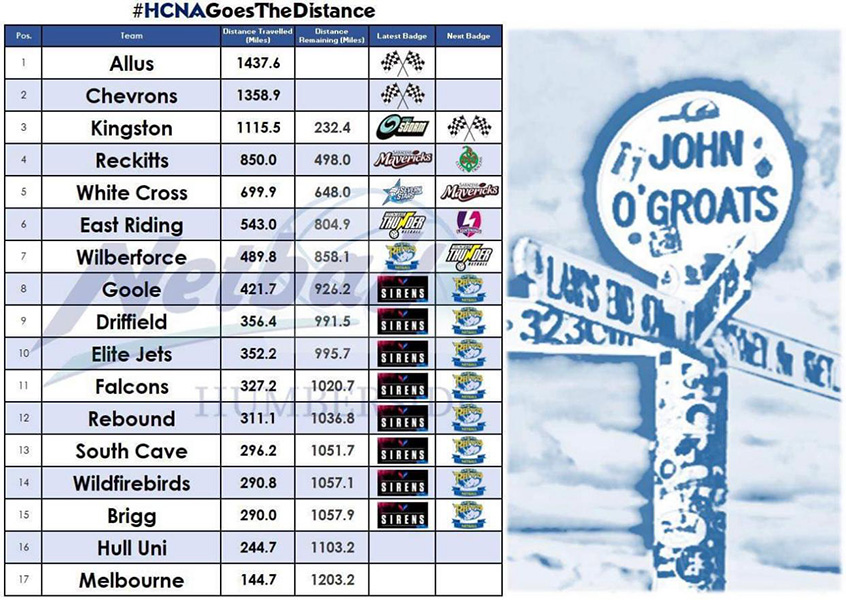 …and we're finished at the top of the leaderboard! Another huge total today – 312.5 miles.
A massive well done to every single person that has joined in with the challenge!!!🏃🏼‍♀️🚶🏼‍♀️🚲
I'm so impressed by the determination of everyone and how we've all come together to finish the challenge in just 5 days!!!🤩
I'm so proud of the club and to be a part of it!!🏆
Thanks to all of you who have sent photos of your bakes, your walks and your smiling faces, keep the photos coming and they'll be added to the website!! Keep an eye on there for your photos on the leaderboard!
Let's all keep up with the activities and fitness as hopefully won't be too long until we're back on court!🏐
Now who wants a lift back to John O'Groats😂🖤💚or we could walk, run or cycle…