Welcome to Allus Netball Beverley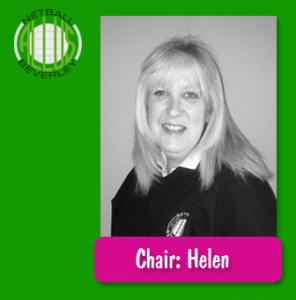 Having played, coached and been a member of Allus Netball for many years I would like to welcome you to our club and our web site.
Netball has been a massive and influential part of my life and my family's life and has brought me into contact with many, many people who I am privileged to call friends. Our club is run by volunteers who have the same love of the game and whose vision is to pass on our passion with support, guidance and knowledge to the next generation so they can take from it, not only the skills required in netball but those required to be an important and valued team member at any level.
Within this site you will read about the accomplishments of individuals, teams and the club as a whole for which we are very proud, and you can see our presentation night with its photos and video links, however, all those achievements would not be possible if it wasn't for the valued contribution of everyone, be that team members, coaches, volunteers and parents. We welcome all players at whatever level and age and all support to sustain and preserve this environment for our club. Come along, get involved and be a part of Allus.
Club history
Allus began in 1987 under the name of Mariste with a group of friends. It came about by the wives and girlfriends of the Mariste Rugby team getting together and deciding that they should do something whilst the men played their sport. Originally they played home matches in and around Hull, including St Marys, YPI, Reckitts and Wolfreton as they all lived and worked in that area. Over the years, and because of sponsorship and circumstances, the club changed its name including Hydra, Amazons and Inch. As well as netball they had a healthy social life, attending each other's weddings, christenings and having regular 'social' nights out to celebrate or commiserate their netball victories or losses. Their friendships continue but as time went by their knees and ankles didn't and the time came when they decided to set up a junior section of the club to continue where they left off.
In 2010, because Beverley was now the most local point and there was no junior club in the area, Allus was born. The name change was to mark the introduction of the junior section. The junior section started with just three pupils from Longcroft school and has gone from strength to strength, seeing hundreds of local girls join and play in the green and black distinctive kit.
Allus is an old Yorkshire term for 'always' and marks the long running and development of the club celebrating its past, whilst looking towards a long and successful future.
Club achievements
In 2012 Allus gained club accreditation from England Netball for bronze status Caps Award and went on in 2017 to be the first and only club in Humberside (and still the only club) to gain their Gold Caps Award from England Netball, which has been accredited once again in 2020. Along with Caps in 2012, Jennie was nominated for the Young Volunteer Award and won the local, regional and then national award. Helen was nominated for UK Sport Children's Coach of the Year attending a presentation in London. From this time the club has had a string of successes with its coaching and support including Anna Blake reaching the national finals of Young Volunteer and in 2018, Bella Brittain went on to win the National Young Volunteer Award. To have 1 outstanding volunteer recognized at national level is amazing but to have 3 finalist over such a short period of time is a testament to the work put in and by these young people.
In addition to this coaches at the club have been recognised locally, regionally and nationally for their commitment through winning England Netball Goalden Globes for their passion and dedication. These awards included a long service award, rose award for development and grass-roots coach award. A large number of girls have also received their Pass on Your Passion 400 hour award which they have been presented with at the Goalden Globes ceremony.
Player achievements
Allus has seen some amazing accomplishments from our players. Over the years we have seen many girls gain places at trials to the Humberside Development, Satellite and County Academies. We have had many girls trial and gain a place in the Regional Academy and more recently the Leeds Rhinos Academies. You will also see the wonderful achievements of Laura Kelly who is an inspiration to our younger members and who perpetuates the ethics of hard work and commitment to the sport after gaining a place in the England Netball National Academy from 2016-18.
Teams
We currently have three teams in the Humberside League. In 2018 (summer) we celebrated the fact that all teams won every game they played within their league, not dropping a single point. Our Under 12, 14 and 16 teams continue to gain qualification to the regional leagues and we wish them well for this year!
Our age-groups
We run teams for under 9s, under 11s, under 12s, under 13s, under 14s, under 16s and senior teams. Under 9s participate in tournaments only whilst older age groups also participate in winter and summer leagues.
Coaching team
… with many volunteers helping with training.
The committee
Chair – Helen Smith
Secretary – Jennie Simmons
Treasurer – Sue Simmons
Volunteer Coordinator – Lisa Kelly
Safeguarding Officer – Lindsey Brittain
Web site – Paul Kelly
Training and usual home venue
Allus is based at Beverley Longcroft School, where training and matches take place. There is also a school-club link with Beverley Longcroft and Beverley High School as well as many primary schools in the area.
Volunteering
Anyone wanting to become involved in any capacity – umpiring, coaching, fundraising, social events, managing social media etc. please speak to one of the coaches and complete the following form.
Allus Volunteer Policy Form (word version)
Registration and code of conduct
Any players wanting to join Allus please carefully read and complete the following registration form including a code of conduct and return to Sue Simmons (suesimmons62@hotmail.com).
Allus Registration Form (word version)
Allus Netball take the safeguarding of our members extremely seriously and have placed the England and Allus Netball Safeguarding Policy in the downloads section. Please see the England Netball Reporting a Safeguarding Concern Procedure.
Kit
We as a club feel it is important for the girls to wear the club kit in order to feel part of their team and the club itself. Club dresses, hoodies and training tops are available to order using following kit order form. Please return to Sue Simmons (suesimmons62@hotmail.com).